Adam is first and foremost a dedicated horseman.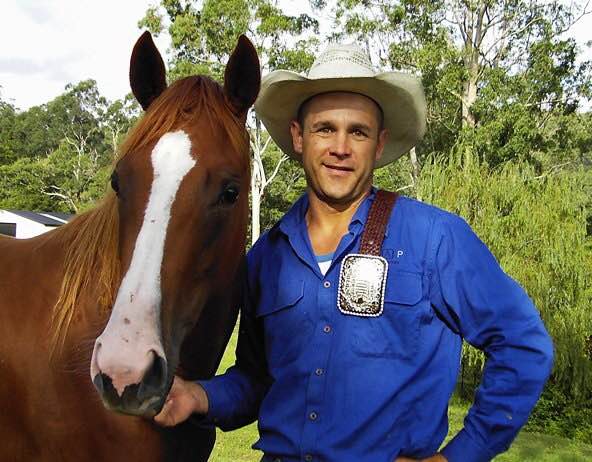 Raised in a horse loving, supportive family he was well in the saddle age 3.
He cannot recall a time he didn't feel a deep affinity with horses.
After his pony club years he became involved in camp drafting competing Australia wide. Following he spent time on the rodeo circuit. Adam wanted to further his horse knowledge and skills, and travelled extensively around the world, learning from and working with renowned horse trainers for several years.
On return home he turned his passion into the training business that has become his life's focus.
He has adapted lessons learned from horses and horsemen alike to form his own style of horsemanship.
Adam has worked on many film sets, and has trained many actors to ride, including Heath Ledger for the movies Ned Kelly and Brokeback Mountain.
Adam's life story was featured on Australian Story, and his autobiography 'Say it Out Loud', has been, and remains an inspiration to many.
In 2010 Adam fulfilled the dream of competing in and becoming Champion of the prestigious Australian Horse starting contest, Equitana's 'The Way Of The Horse'.
Adams caring approach to horses, coupled with trust, respect and confidence has earned him a reputation as one of Australia's best horse trainers.
His greatest teacher is the horse itself, and Adam applies training techniques in accordance with each individual animal.
Billy Fish
Billy is my right hand girl.
Having a strong affinity with animals and horses she has now been working along side me for 7 years. In this time her horse handling and riding skills have improved to the the point where she is an extremely capable and confident rider, horse handler and horse trainer.
Billy assists Adam with clients horses to establish lessons taught.
Billy competes in Camp Drafting and Showjumping.
Cloe Churchill
Cloe has been in the saddle since age 2.
She too is passionate about her love for horses. She commenced working for me 6 months ago and is our head groom.
Cloe loves Camp Drafting and competes in horse ball. She has an interest in Liberty Work, and is often found in the arena after hours training.
Archie, (my horse)
Archie's my best mate, my confidante and my teacher.He just can't go without mention. I wouldn't be where I am today without him.